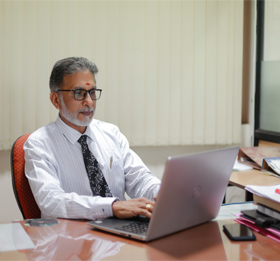 Principal
Dr. V. Ravi Kumar possesses 36 years of work experience in corporate and academics. He has a strong and credible record in marketing for 14 years having worked in companies like, Gee Dee group, Modi Xerox Ltd., Kenstar Ltd., and BPL Ltd., His experience spans Direct selling, Channel management, Product launch, Brand management, Collection management and Branch administration. Was instrumental in the development of rural markets for consumer durable products and extensively involved in advertisement planning.He has received several performance honors in his illustrious corporate career in Marketing His academic experience spans 22 years and credentials include a PhD in Management (Research on Brand Equity). His subjects of interest include Brand Management, Services Marketing, Promotion Management, Retail Management. Was Board of Studies member for MBA of BharathiarUniversity.Organizedvalue-added certificate courses for the institution, coordinated admission and placement work.Has supervised 7 PhD scholars in their Ph.D. work and completion.Has authored articles in national and International journals. Resides in Coimbatore.Interests includes listening to music and a very keen sports enthusiast.
Qualification : M.Com., MBA., M.Phil., Ph.D.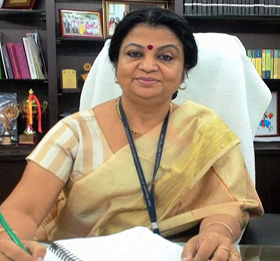 Dr.S.Sandhya Menon is a dynamic leader and an able administrator who has more than 36 years of teaching, research, and industrial experience. She had a brilliant academic career. She had won many prizes and awards in academics, sports, and cultural activities.
She has presented papers in a number of national and international conferences and some of her papers are published in reputed journals. She was a star performer in N.C.C. and represented Tamilnadu and Pondicherry at the Republic Day celebrations in New Delhi in 1979. She was also a member of the Basketball Team at the Division level under the University of Madras.
Consolidating her strength in research and teaching and curriculum development, she has been serving as a member of the PG Board of Studies of Bharathiar University. She has guided successfully more than 25 M.Phil and 13 Ph.D. scholars.
She has traveled to most countries in Europe, Cambodia, Vietnam, Singapore, Malaysia, Russia, Jordan, Israel, New Zealand, U.S.A, Sri Lanka and has gained knowledge about the culture, living standard, and educational advancements of these countries. She was an active member of the UGC Commission for grant of funds under the XI Five year plan to various Universities and colleges across the country.
Professor 
Qualification : M.Com., MBA., M.Phil., Ph.D.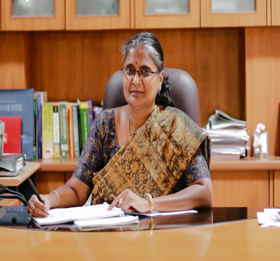 She is a very senior academician specialized in finance. She has a total academic experience of 28 years. She has published papers in several International and National journals. She has also presented papers in many National and International conferences. She has produced to her credit 30 M.Phil and 12 Ph.D scholars as on date. She is a very senior academician with active role in Bharathiar University examiners panel, senate member and is a person with in depth knowledge of Finance subjects
Professor 
Qualification :M.Com., M.Phil., MBA., Ph.D.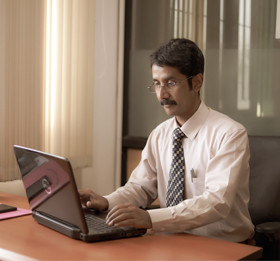 A passionate, dynamic, committed and fast track academician with post graduation in Business administration with specialization in Human Resource Management and Systems. Has qualified National Eligibility Test for Lectureship in management conducted by University Grants Commission.Has 18 plus years of experience in MBA teaching and 3 years in industry. Area of Interest is in Training & Development and had been a invited trainer to various institutes and corporates. Firmly believes in Collaborative learning and is passionate in conducting creativity, lateral thinking and management games sessions to the students.
Associate Professor CMS Institute of Management Studies
Qualification : MA(SW), M.Phil.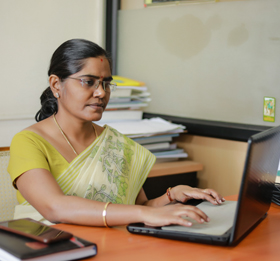 Dr M.Annapoorni possesses 25 years of work experience in industry and academics. She is a specialist in Mentoring & Moulding Children. Her penchant for Networking has won her many hearts. Her quest for quality led her to be the Lead Implementer in IQAC & ISO Certification work. She was instrumental in establishing ICICI Learning Centre in CMS College and she was the Coordinator for IGNOU –PCL centre catering to over 600 Students. She has published papers in National and International Journals of repute and believes in the dissemination of Knowledge. Supervises PhD and M. Phil scholars in their work and completion. Her passion for reading & the latest updating is amazing. She has a keen eye for nurturing Start-ups on Campus and Coordinates EDI Cell
Qualification : MBA, M.Phil., Ph.D.