Department of Food Science and Nutrition
The Department of Food Science & Nutrition, commissioned in July 2019, offers a 3 year degree program in Food Science and Nutrition. The curriculum is well rounded in the various aspects of Food science in order to provide a strong foundation of the fundamentals of food and its composition; Human Physiology covers the basic functioning of the body; Principles of Nutrition through various life cycles and Diet for various disease conditions. Various community awareness programs are added to ingrain a sense of responsibility in the students towards the society and to shed the inhibitions as individuals towards a holistic development. The focus of the curriculum is to impart hands on training and community awareness programs to enable the students to procure employment in Hospitals, Fitness centers, Government organizations, NGO's, Hotels and to become entrepreneurs.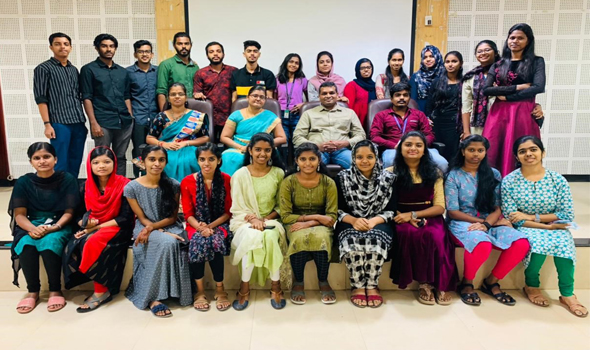 Vision Of The Department
To develop the department in order to serve the various sectors of society in which food and their bioactive components contribute to health and prevention of disease through effective application of nutrition knowledge and understanding of human physiology to improve health and well-being.
Mission Of The Department
To educate the students to integrate the knowledge and skills acquired, towards building awareness in the society and motivating people to lead a disease free life, thereby to enabling them to overcome the challenges of malnourishment in the world.
B. Sc Food Science and Nutrition
Eligibility: Eligibility for the course is a pass in Higher Secondary Examination with Chemistry as one of the subject
B. Sc Food Science and Nutrition affiliated to Bharathiar University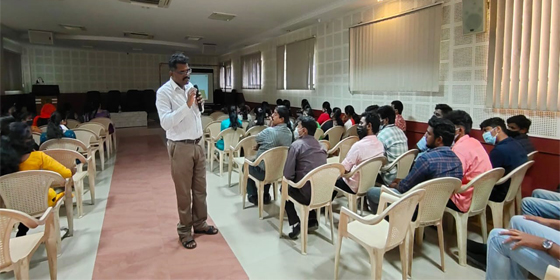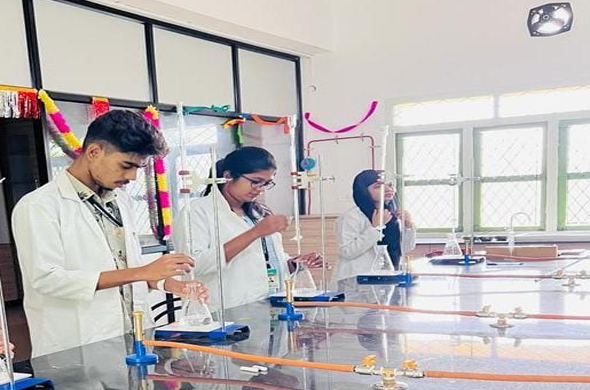 Curriculum
The curriculum is so designed to ensure that the students are ready for the Industry or for further
research. The syllabi covers theory and hands on experience in Food Science, Nutrition for health, Human Physiology, Dietetics, Food Preservation, Food Microbiology, Life style and chronic diseases and the cure through food, Food service management, Sanitation and hygiene. The students also have the option of choosing electives from a wide range of options in the curriculum. A compulsory hospital and food service internship. The students also have an opportunity to undergo a HACCP certification programme as a part of the curriculum.
M1 Module I – Course I – Holistic Nutrition in alternative medicine – Therapeutic Foods
M2 Module I – Course II – Holistic Nutrition in alternative medicine – Naturopathy and Nutrition
M3 Module II – Course I – Holistic Nutrition in alternative medicine – Yoga and Nutrition
M4 Module II – Course II – Holistic Nutrition in alternative medicine – Ayurveda And Nutrition – I
M5 Module II – Course III – Holistic Nutrition in alternative medicine – Ayurveda And Nutrition – II
VAP – FSSAI Fostac Food Safety Supervisior Certification & HACCP Certification Programme
Unique Features
Curriculum with more of field based learning
Value Added Courses including HACCP Certificate Programme and FSSAI Fostac Food Safety Supervisior Certification Programme
Mini Project & Product development
Industrial and Hospital Training
Infrastructure
The department is facilitated with a completely furnished and well equipped Food science and Nutrition laboratory to carry out the Nutrition Analysis experiments and a well equipped Food preparation laboratory to carry out the various Food preparation experiments that include diet through life span, food preservation and therapeutic diets
Apparatus- Muffle furnace, hot air oven, centrifuge machine, colorimeter and water bath
Career Opportunities
Job opportunities for students with the bachelor degree of Food Science and Nutrition are on the verge of an unprecedented rise in the national as well as the global scenario and standardsdue to the growth of the hospital and health industry
Government sector
Dieticians can find employment in government hospitals. Candidates can work in government-run hospitals, healthcare institutions, schools, colleges and industries for planning nutritional regiment (For e.g.: As CDPO – Child Development Project Officer under the Ministry of Women and Child development). They can find job placements in research organizations that are running under the control of the Government that are engaged in research in the field of food and nutrition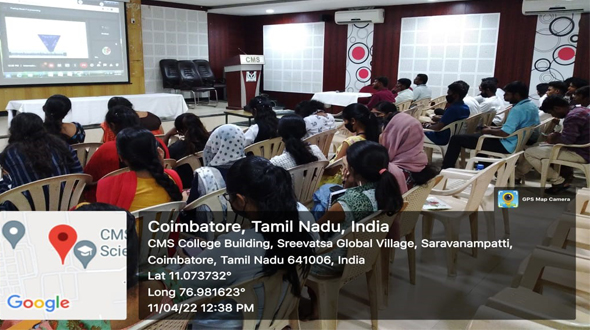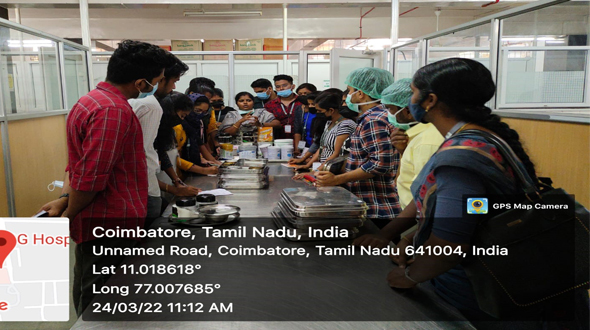 Food Safety Officer
 Inspect all licensed units as frequently as may be prescribed by the Designated Officer, To verify/satisfy the conditions of licences are being complied and report to the Designated Officer, Procure sample and send for analysis in case contravention, surveillance, Investigate any complaint in respect of any contravention of the provisions of the Act, To maintain a data base, To recommend issue of improvement notices, To maintain a record of all inspections made and action taken by FSO.
Quality Assurance manager
you can find a job as a QA manager by regulatory authority compliance for food companies' products. They do so by implementing policies, strategies, and methodology testing.
Food production manager
Food production managers oversee the hiring, orientation and training of technical and non-technical food manufacturing personnel, they assign roles to production staff according to their competence and work demand, they also motivate and supervise work crew to ensure daily production targets are achieved.
Sports and health clubs
They can work in private health clubs and other fitness centres as well as health, recreation clubs and other nursing care facilities.
Nutritionist and Private practitioner
Community dieticians develop nutrition programs designed to prevent disease and promote health, targeting particular groups of people. Dieticians in this practice area may work in settings such as public health clinics, fitness centers, corporate wellness programs or home health agencies. Nutritionists develop meals plans, educate on portion control and are qualified to prescribe special diets for the treatment or prevention of diseases, such as heart disease and diabetes. Experienced Dieticians can work as independent counsellors or consultants. They can provide their professional advice to people who are seeking advice on food habits and nutrition.
Research and development
The role of a food scientist is to research, develop and test different ingredients and foods, making sure they are safe for humans to consume. They use their knowledge of life and physical sciences to create new technologies and methods of food production, processing, and packaging. Dieticians can find work in any healthcare facilities and research centres run by the government. Their main job is to conduct research on food samples and find out the nutritive value of food. They have to ensure that the various food items undertaken have a balanced mix of nutrients.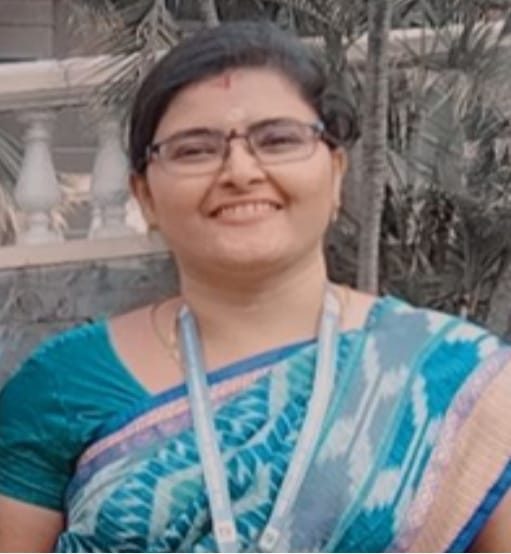 Mrs.R.POORNIMA
Department : FOOD SCIENCE AND NUTRITION
Qualification : M.Sc., DMTT., NET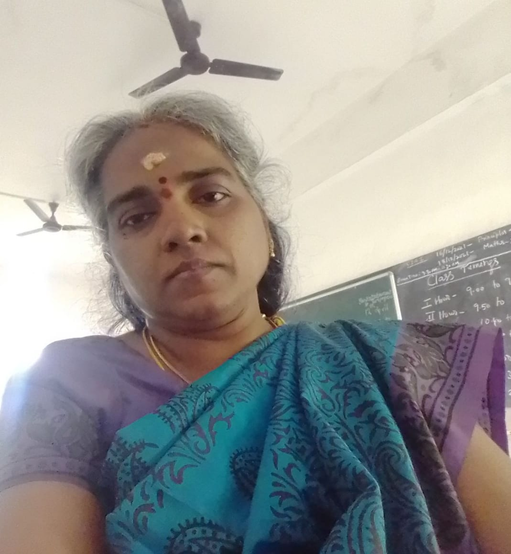 Dr. K. ARULMOZHI
Department : FOOD SCIENCE AND NUTRITION
Qualification : M.Sc., M.Phil., Ph.D.,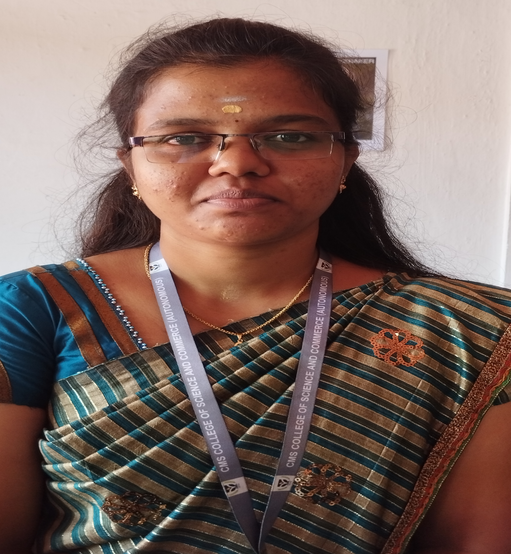 Mrs. V.SHARMILASHREE
Department : FOOD SCIENCE AND NUTRITION
Qualification : M.Sc., (Food and Nutrition)
The Department conducts and organises National and International level Seminars, Webinars and workshops throughout the academic year
Students are taken to Industrial visits and Hospital Dietary department visits to provide the practical exposure on the recent trends in food processing and dietary management
Students carry out the community outreach activity of providing Nutritional awareness programmes at the School/ College/Anganwadi
| Name | Designation | Company Name& Location |
| --- | --- | --- |
| Sujitha.V | Dietitian | DCamp Foods & Health Services (P) Ltd |
| Syed M.Beevi | Dietitian | DCamp Foods & Health Services (P) Ltd |